Brotherly Love: Campbell Brothers Find Success Through Love Of Golf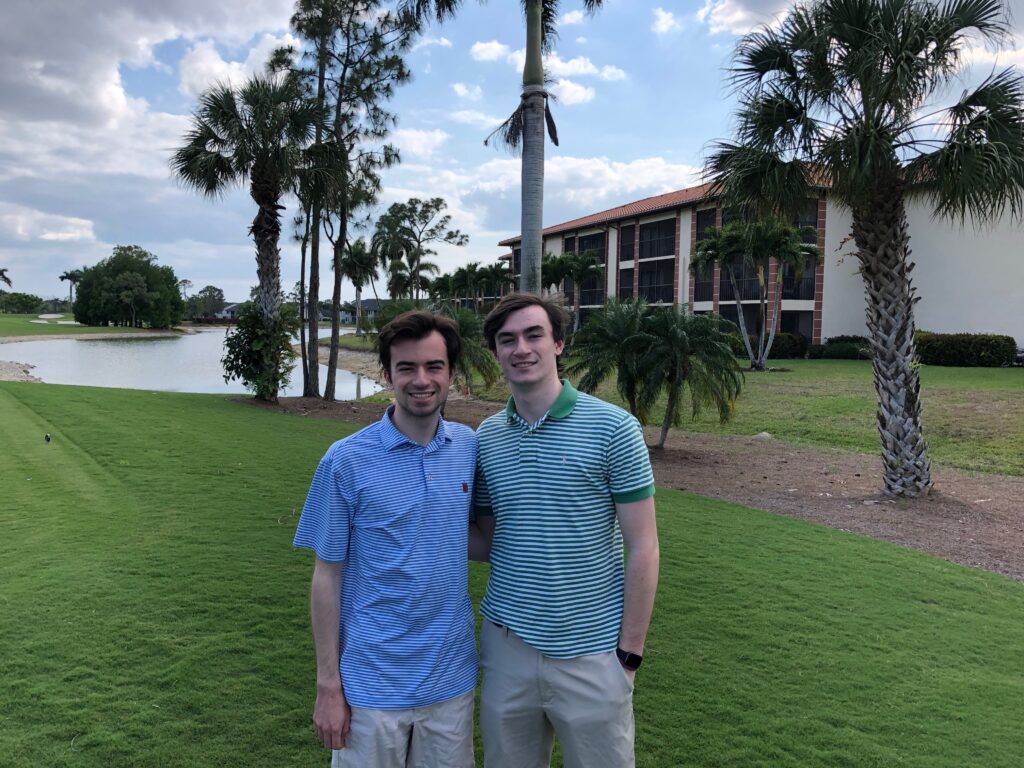 Many describe the golf community as "a family". For the Campbell brothers, golf is truly a family game.
Brendan and Connor Campbell are Garden City, New York natives and Long Island Caddie Scholarship Fund recipients who were introduced to the game of golf at an early age.
Connor, the eldest brother, is a senior at the University of Notre Dame and started with the GOLFWORKS program when he was 15 years old. Brendan, currently a freshman at College of the Holy Cross also started when he was 15. Though Connor is years removed and starting his professional life at Goldman Sachs after graduation this spring, he still remembers his time at Deepdale fondly.
"I can't say enough about the people at Deepdale and the way we were treated," said Connor. "That experience truly meant so much to me. So many people there were helpful and instrumental in making sure I got a ton out of the experience."
Brendan is following in his brothers' footsteps, continuing his work at Deepdale after his freshman year in college.
"I'm obviously super excited to get back and start working again," said Brendan. "Everything about the club and the GOLFWORKS program has meant so much to me and my brother." 
GOLFWORKS began in 1994 and is a program that gives meaningful employment to students at over 70 MGA Member Clubs. The program is designed to: develop positive skill sets that will enable broader career options in the future, provide exposure to positive role models and build self-esteem, provide regular exposure to the game and a chance to develop some level of skill, as well as a knowledge of the game's Rules and etiquette and to open up the golf industry to a new generation.
With both brothers currently in college, golf is still a huge part of their lives. In fact, their college experience has been aided by the sport and the LICSF in particular. The LICSF was founded in 1962 and has since awarded over 800 scholarships. Brendan and Connor are two of that exclusive group.
The brothers will be featured in the upcoming edition of MetGolfer. Before the issue is released, get to know the two young men in this Q & A.
Connor Campbell:
Q: How were you introduced to the game?
A: My dad was the one who showed me the sport first. He worked at Wheatley Hills and was also a member there when I was growing up.
Q: Earliest golf memory?
A: If I'm being honest, I don't have a specific one. It would probably have to be just going to the range growing up but I wasn't really into the game the way I am now that early on.
Q: What are your plans after graduation?
A: I will start my career with Goldman Sachs. I got an internship with them during college and was able to turn that into a job. Really excited to get going with that once college is over.
Q: Who is the better golfer, you or your brother?
A: It's definitely my brother, I don't know what he told you but it's him.
Q: What's a fun fact about you not many people know?
A: I went viral on tiktok a little while ago. All my friends knew it was me, but it was funny because all my brother's friends thought it was him. We look so alike. They were asking him about the video, and he had no idea until they showed it to him.
Q: What is your favorite hole at Deepdale?
A: It's probably a cliché answer, but I really like the 18th hole, it's just a good finishing hole. I used to love to go out on the green right around sunset and take pictures when I worked there, it was such a great view. I also like 10 because it's basically about hitting it as far as you can.
Q: What would your dream golf group be?
A: It would have to be my brother, my dad and Phil Mickelson. Phil is my favorite golfer and I always enjoy golfing with my family.
Brendan Campbell:
Q: Earliest golf memory?
A: I always remembered going to the range early on. I really started golfing a lot much later, like in the last few years, but my dad would take me and Connor to the range growing up a good amount.
Q: Who's the better golfer, you or your brother?
A: Well, I wouldn't say I'm very good. I love golfing but I'm just okay. I would say I'm the better golfer.
Q: How was your first year in college/what do you have lined up this summer?
A: My first year of college was great. COVID obviously makes the experience a little different, but it was still a really good first year for me. This summer I am going back to work at Deepdale which I am really looking forward to.
Q: Do you watch a lot of golf or play a lot of golf?
A: Both, but I think I watch more than I play. If you would have asked me five years ago if I would be doing both regularly and I would have said no. The game has really grown on me.
Q: So who is your favorite golfer to watch?
A: I'd have to say it's Rory McIlroy. I only recently got into the sport and he was the first guy who stood out to me.
Q: Dream golf group
A: I would say my brother and my dad…well I want to give a little more fun of an answer for the interview. I'll say Rory, Tiger and Phil Mickelson.
Q: What is your favorite hole at Deepdale?
A: I think it must be the 18th hole, it's just a cool finishing hole. I would also say I really like hole four. It's a shorter par three, maybe 150 yards, but I hit one of my best shots ever on that hole, stuck it pretty close to the flag.
Q: Fun fact about you?
A: Well, it's not really a fun fact, but it's a pretty funny story. I can't remember exactly when it was but Rory [McIlroy] came to Deepdale and played a few holes. Of course, it was a day that I wasn't at the course, so I wasn't able to see him. Hoping to once in my life.
Be on the lookout for the next issue of MetGolfer where the Campbell brother's story will continue.